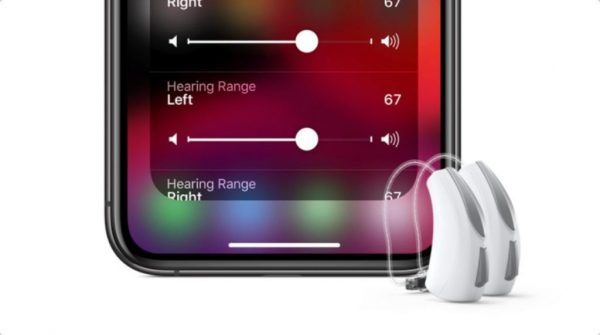 Talking on the phone or video chatting is a core part of everyday life, from conference calls to Zoom reunions. However, for those with hearing loss a phone call can bring undue stress and anxiety.
To help make the seamless transition from hearing devices to mobile device, Apple products, including the popular iPhone, have built in features that make this an easy process. If you are hoping to face fewer challenges while talking on the phone with your hearing aid in place, you can easily connect your hearing devices to iPhone devices using Bluetooth connectivity. By doing so, calls and video chats will transform from struggles into hassle-free experiences – and that is not all. Direct connectivity can also help you better hear music, videos, podcasts, and audiobooks by streaming them directly into your hearing devices.
At I Love Hearing, we are happy to assist you with this process – simply give us a call or click on over to make an appointment and we will take it from there.
If you prefer to try it yourself, here are some tips to help you navigate the process.
1. Confirm that your hearing aids are compatible with iPhone
Before you pair your hearing aids with your iPhone, first check to make sure if the two devices are compatible. For successful pairing, you must have an iPhone 5 or later and check to see if Apple supports your hearing aids. If you're still unsure after checking this list, contact I Love Hearing and ask about your specific hearing aid and iPhone models.
2. Make sure Bluetooth is turned on
To connect your hearing aids to your iPhone Bluetooth needs to be on. You can check whether your Bluetooth is on in your iPhone settings, where you can toggle the Bluetooth switch to the "on" position if it is not already set.
3. Put your hearing aids into Pairing Mode
Your hearing aids can only connect to your iPhone via Bluetooth when you put them into pairing mode.
For battery operated hearing devices, simply open the battery doors and place your hearing devices next to your iphone.
For rechargeable hearing devices- put them in the off position or place them in their charging dock until you are ready to start the pairing process.
4. Begin the pairing process
Now that you've prepared your hearing aid and your iPhone to connect to each other, it's time to start the pairing process. Complete the below steps to begin using your hearing aids as an extension of your iPhone:
On your iPhone, open the Settings app.
Next, click on Accessibility.
Scroll down until you see Hearing Devices and click on that option.
On the next screen you will see MFI Hearing Devices on the top and a searching wheel will be spinning while your phone looks for your hearing devices.
Now it is time to turn your hearing devices on by either closing the battery doors (which turns them on) or removing the devices from the charging dock.
Wait for you devices to appear with both R & L symbols-although at this point it will say not connected.
Click on your named devices and another screen will appear which will have two windows pop up on the screen, tap "Pair." Note that two hearing devices will require you to tap the word "Pair" twice.
Allow up to 1 minute for the pairing process to finish. When done, a checkmark will appear next to the device name.
5. Adjust the settings as needed
Congratulations – you have successfully paired your hearing devices to your iPhone! Now you can personalize some settings based on your preferences in your Accessibility window. Below is a list of settings you can adjust:
Volume adjustments independent or simultaneous.
Ringtones played through your hearing device.
Audio routing (your choice of default audio playback device).
Audio handoff between Apple devices (seamless switching from iPhone to iPad).
Customize preset volume levels (also possible via lock screen or Control Center).
If you need more help with your hearing device settings or just prefer to come in for assistance with pairing your hearing devices, I Love Hearing is just a call or a click away.
You'll always feel connected to others with I Love Hearing
Whether you are unsure about the compatibility of your hearing devices and your iPhone or need more help successfully pairing your devices, I Love Hearing is here to assist you. Our leadership team has in-depth experience working hands-on with almost all hearing devices, so we can address all your questions and concerns. We want you to feel comfortable and confident when using your hearing devices – and we have the knowledge to make it happen.
At I Love Hearing, we will also practice a phone call with you before you walk out the door with your hearing devices. We can teach you some of the best at-home maintenance and cleaning practices.
Properly caring for, using, and Bluetooth-connecting your hearing devices can be challenging, you can visit our Hearing Aids FAQ page if you still have questions. Better yet, contact I Love Hearing to speak with a specialist, book an appointment, and start your jour journey to better hearing!